I met
Nanner
and her cousin at the Cafe Du Monde for coffee and beignets at about 10:30 AM and we stood in line maybe 15 minutes for a table. We found decent seating right in the corner of the outdoor part just across from Jackson Square. We were being entertained by a couple of street entertainers singing old-time ditties such as "Ain't She Sweet", one man on trombone and the other on guitar, an odd couple but fun! We gorged on sticky powdered sugar donuts and hot cafe au lait, delicious!This first pic was taken facing an angle towards Jackson Square, notice how foggy the sky is! We sat and chatted and got caught up on blogger world, yeah, theres a good chance you're name came up because we talked about a lot of you guys! hehe. Which ones?, noooo, I'm not telling.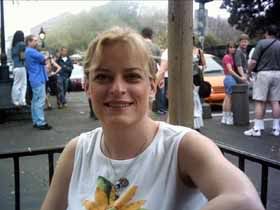 Nanner is a looker!! Hell yeah!
The girls had a small map of all the shops they wanted to hit in the quarter so we didn't stay there long. Looked like a small battle plan actually. We headed out across Decatur St. and browsed the outdoor art displays. Lots of really nice work, but I didn't really see anything I liked as much as I do
Victorias
work, she rocks! We went past St. Louis Cathedral and started hitting the shops on the list and there were just too many to describe here. We hit everything from voodoo and witchcraft shops to almost every jewelry shop in the quarter and even a place that featured clothing from India including belly dancer style outfits. This is where Nanner tried a on a red sequined top. The thing felt like it was armored with all the sequins on it and felt like it weighed a couple pounds!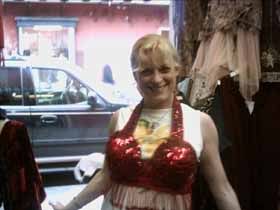 Awesome!
We took a break at the Chart Room and had a couple of drinks and waited out a short rainstorm. This is the same bar (a dive actually) with cheap drinks that Angie of
Cootersnap!
turned me onto a couple weeks ago. The rain didn't last long and we continued along the battle front moving in a criss-cross pattern to confuse the enemy that put us triumpantly on Bourbon St. I got this pic of Nanner as I was facing the Royal Sonesta Hotel and a Bourbon St. sign on the post in the background! At one point we stopped in at a small grocery and got Bandaids for her big toes because her new sandals were hurting her. Yeah, we walked our asses off!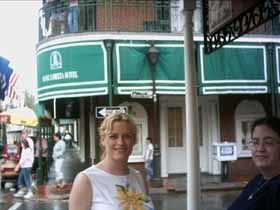 Hunger was finally setting in and we found a small restaurant on Chartres St. called Pierre Masperos and we had po'boy sandwiches and fried oysters! The sandwiches were good and very messy to eat, the mark of a true po'boy sandwich. It was now past 5PM and we were pretty tired by this time, having walked around for nearly 6 hours! Thats a shitload of walking!! We called it a day and I walked the girls to their car, we said our goodbyes and did the hugs. Parting sucked!

I had a lot of fun, Nanner was sweet and easy to talk to with a casual manner and charm that made me feel very comfortable around her. I hated saying goodbye, our time together was way too short! Hopefully we get to meet again in the future!! It's so nice to meet our friends face to face after meeting them online. I'm looking forward to meeting other bloggers in the coming year, who's next?