---
Furry Pole Sitter Seeks Guinness Record.
Bobby the Black Squirrel was spotted sitting on the crossbar of a local telephone pole earlier this afternoon. Minutes later when he descended he confessed he was just doing some warmups for a new pole sitting record for black squirrels. He claims that Maurice the Brown Squirrel cheated on his record setting pole sitting last fall and he says that he can prove it. At this time however he is seeking the perfect pole to take a shot at the record. When asked what he considers to be the best pole in the area, he replied, "I like this one quite a bit, it has a great view of that oak tree across the street where I spotted this really hot babe, Brittney Squirrel drawing the blinds over her nest. I heard she has the bushiest tail around. I mean, dude, she was in a thong! I'm pretty sure this is the pole."

Bobby Squirrel seeks record


---
New War Memorial Unveiled in Paris
Paris officials have unveiled a masterpiece of classic sculpture with the latest works of French Master Sculptor, Pierre Letardo. The presentation was a grand scene with marching bands, hot air balloons and mime artists and circus clowns. The French Prime Minister was on hand to dedicate the sculpture to the memory of the lone French soldier killed in the war with Iraq. The unknown soldier was apparently backed over by a French armored vehicle while retreating at the first sighting of a group of well armed Iraqi schoolchildren. His body was unrecognizable and unidentifiable according to news sources. There was a moment of silence during the Prime Ministers speech when he apparently could not recall the French battle cry, an aide informed him that there were none on record and the speech continued after a cajun american in the crowd shouted "Laissez le Bon Temp Roule" to fill in the awkward moment of quiet.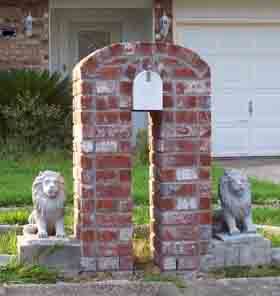 Arc de Mailbox

The scene immediately following the dedication was marred by a french flyer in a small Cessna airplane when he attempted to fly through the arch and wow the crowds. He missed his mark and crash landed in a field about 2 kms away. He was unhurt in the accident.
---
Woman Sues God for Damage

Mrs. Billy Joe Diddler seeks damage remuneration in the amount of $14 trillion dollars for the cost of repairs to her home and psychiatric help to get over her hurt feelings. She claims that she has always loved and believed in God and he has shown nothing but contempt to her by sending a windstorm to her home that damaged one of her plastic shutters. When asked why it would cost so much to repair the shutter she replied, "Well, the shutter only costs $4.95 at WalMart but I'm going to need psychiatric help for the rest of my natural born life. If I live another 40 years do you think I'll be able to afford that kind of help on what I make now? You've got to be kidding me! Besides, I'm sure he can afford it and I know he won't want me praying to the Devil! Hallelujah!"

Damage said to exceed $14 trillion
---
Have a great Memorial Day!!!!