I recently started selling some old junk on Ebay and I accidentally came across some pics I had stored in an old zip drive I used to use. One of the things that really bugged me was that I lost a lot of mementos like old photos of fast cars and custom hot rods and motorcycles that I've built and customized thru my years. Yeah, I was quite a prolific hot rod builder, I owned a body shop for a few years, and the pics I used to have of my work would knock your socks off, and I even found a few of those as well. All this stuff got lost when I became seriously ill with my needing a liver transplant (that story in the sidebar link). I sold the zip drive and just to make sure I didn't leave any personal stuff on any of it's cartridges, as an afterthought I hooked it up and found some of my lost stuff!!
Here's a couple pics of my old lady, ain't she a frikkin beaut?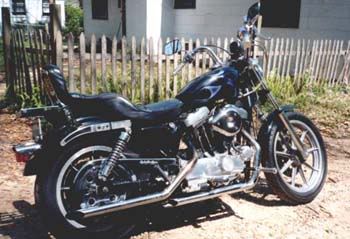 A few of my personal add ons are the drag pipes, pull back handle bars, custom black and pearlescent blue paint, the two-step seat and sissy bar, and the S&S chrome air cleaner.
Here's another view!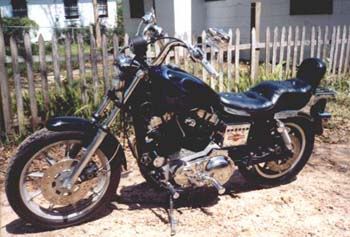 Sweet, huh? ya, too bad the lighting angle in the pics doesn't fully show off the custom paint on the tank, it was gorgeous and took forever to do. This was my fave bike out of all the ones I've owned thru the years, and now after looking at these pics and that my health is back I want another one more than ever!