I made a new friend over the weekend, she seems really nice. We haven't met face to face yet but we will. So far only pictures and chatted by phone and email. Very pretty and a great smile! She lives only a few miles away too! YAY! That's not bad at
all.
We met thru a local personals ad thingy, cool huh? Yeah, I'm not planning on gettin' tied down though, well, I'm gonna try not to.
I love so many women bloggers here in this most excellent blogging community, they just live too damn far away!! So, uhmm... when you guys gonna move to the Big Easy? hehe. I should be so lucky, no really! Remember the local motto: Pinch me, peel me, suck me! Noooo, not me! The crawfish silly! Ok, well me too then...if you insist.
cccccccccccccccccccc
The Westbank Art Guild had an outdoor show Sunday afternoon, the weather was insanely gorgeous. They had set up on the grassy median of an old graceful boulevard near the river. The area was lined with huge oaks, a very nice setting for such a sweet day. There were many artists showing off their wares, some were quite good. I even snagged a couple of their business cards to check them out later after I move. I didn't buy anything though so no pics, sorry! Though I did get a couple cool pics of the river afterwards as i walked along the levee across from N.O. Notice the Superdome in the distance.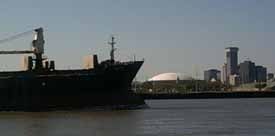 And then this one is the old Gretna City hall, recently restored to its former glory, very nice!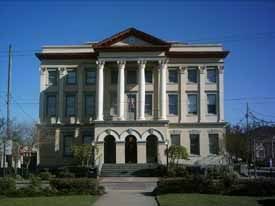 I got more pics of odd junk that I accidentally found, saved for later. I'll be pretty busy still, cool!
cccccccccccccccccccccccccc
I've been working feverishly for the past few days on
www.blogsgonewild.net
and it's looking good! 14 freakin' webpages so far! What do you think? Most of it is live, the only part that is still under construction is the Blog Tips and Hacks, although the one for the Create Post is up. It's not all done by any means, but I hope to have it all sorted out by this coming weekend. So check back! I hope you will find some info in there to be helpful, I will be adding more tutorials. Especially cool for any new bloggers that don't know how to work the fonts and colors and other settings. I'm wide open to suggestions, if there's some stuff you want to se over there tell me!
To help christen the new site I'll be installing Haloscan commenting into anyones blog that wants it, just ask! No fee! I'll even customize the look and colors to match your blog, activate the Beta options and set up the Gravatars for you! I want everyone to have control over their comments, like being able to track and ban IP's. Not to mention that it's just a shitload faster than blogger comments! Don't let
this
happen to you with no defense. Yeah baby, like that! hehe